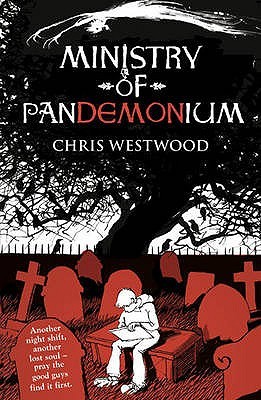 Author – Chris Westwood
Age – 10+
Ben Harvester likes drawing, and much to his mum's dismay, spends a lot of time in cemeteries drawing the headstones and imagining the people that once were.
One day he meets a man who introduces himself as Mr October. That fact that Ben can see Mr October at all proves he has a gift, besides his extraordinary drawing talent.
Mr October works for the Ministry of Pandemonium and after Ben passes a few more tests, he is recruited to the Ministry.
This organisation is hidden in London (reminding me of Syrius Black's house – there but not there), and it contains a room with an ancient telegraph machine. Every few minutes, a list of names reel out of the telegraph – the soon to be departed. These are then retyped up on cards and filed under Ministry regulations.
The Minstry's job is to locate these people and guide them to the next life – no matter how confused, angry or in denial they may be.
But there are other forces – shapeshifting demons and horrifying creatures that try to steal these people for themselves. With Mr October's guidance, Ben slowly develops his talent to defeat these creatures.
When his own mum's name reels out of the telegraph, Ben's own shock and denial prevents him from typing up his mum's card and in the process the natural order of things is tipped into chaos – resulting in a huge battle with the demons and soul stealing Mawbreeds.
I enjoyed this story immensely. It leaves the reader with a satisfying ending but also allows a sequel to follow.
(Drawing, Underworld, Magical, Death, Dying, Demons, Series, Soul)