TEEN NES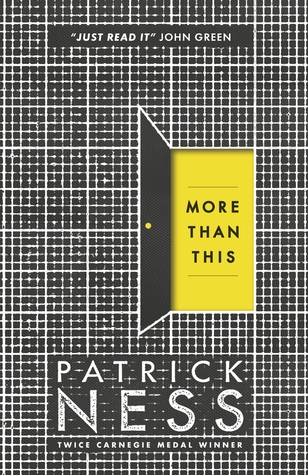 Author – Patrick Ness
Age – 13+
Seth has made a decision to kill himself, so wades out into the bitter cold ocean and is smashed against rocks where he drowns.
He wakes on the front path of a house, strange bandages hanging around his top and bottom half, leaving his middle bare. He quickly realises he is back at the house he grew up in. Back in England, thousands of miles where he now lived with his Mum, Dad and little brother Owen.
How can that be? And what were the bandages for? He remembers the snapping of his bones in the ocean. Was he in hell?
There is no-one around – anywhere. After searching the house (and finding a strange coffin inside) and the surrounding streets, he discovers he is alone. The town looks as it has sat empty for years, with shoulder high weeds and grass along the streets and old dried up food in the shops. Where is everyone? Is he destined to spend eternity alone?
With 'A Monster Calls' being one of my favourite books ever, I knew I had to read 'More than This.' This novel had me enraptured from page 1 and just when I thought I might know where it was going it turned me upside down. A Must, must read. Fabulous!
(Suicide, Family, Grief, Future, Relationship, Gay, Mystery, Love)