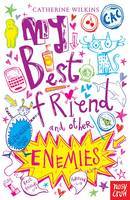 Author – Catherine Wilkins
Age – 8+
Jessie and Natalie have been best friends forever, sharing everything including a wacky sense of humour, secrets and school days. But that was before Amelia joined their class and Natalie starts hanging out with her – excluding Jessie.
Jessie is angry, upset, confused and determined to get even.
This is a laugh out loud, fabulous story of friendship and foes, including annoying neighbours, cartoon drawings, pirate Lego and an interesting boy called Joshua.
Great for anyone in a friendship 'triangle' dilemma.
(Friendship, Humour, Secrets, New girl, School)