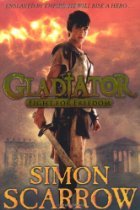 Author – Simon Scarrow
Age – 10+
Set in the time before Julius Caesar had risen to fame, and after the great slave rebel Spartacus died, the story begins with 10 year old Marcus living on his family farm with his parents. His father is a retired Centurion – who has told stories all Marcus' life about the final battle between the great Roman army and the Slave Army led by Spartacus.
When Marcus father is in trouble for unpaid taxes, he and his mother are sold into slavery to the taxman in payment of the debt. Marcus is angry and bitter – his rage the only thing driving him to survive and someday be reunited and save his mum.
I loved this story! Being a fan of the movie Spartacus, I couldn't stop reading. I think this will be fantastic for boys to immerse themselves in. Marcus is a great character, full of anger at his fate, but with strong honour and courage.
(Slaves, Fight, Determination, Revenge, Action, Bullying, Conflict, Courage, Historical, Grief, Romans, Series)