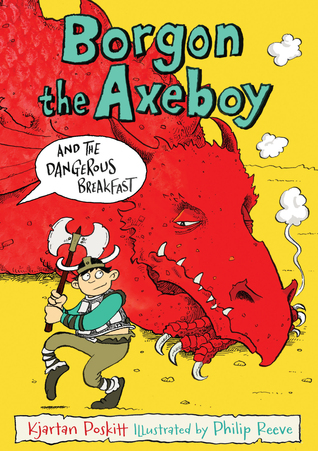 Author – Kjartan Poskitt / Illustrated by Philip Reeve
Age – 7+
This would make a great read-a-loud for girls and especially boys
Borgon wants to be more like his dad, especially after his mum says that very thing. In his cave on the Lost Desert, breakfast is a very important thing. It is to be eaten noisily, messily and with a huge burp at the end. When Borgon moans that he never gets to do anything dangerous except burp, his dad mistakenly tells him about the most dangerous breakfast he ever got. He whispers it in Borgon's ear and tells him not to tell his mum.
Borgon jumps at the idea to his dad's dismay and sets off to repeat the feat of his father.
This is a funny story, and you'll never believe what the dangerous breakfast turns out to be.
(Friendship, Family, Courage, Dragon, Barbarian, Viking, Humour, Series)