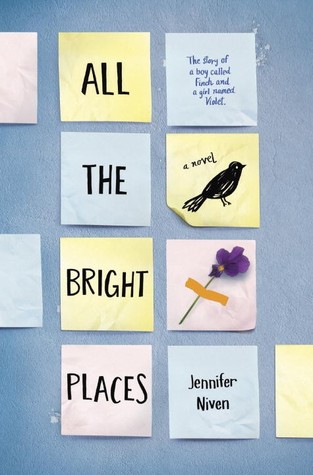 Author – Jennifer Niven
Age – 14+
Theodore Finch is standing on the bell tower at his high school, contemplating jumping off. But he gets a surprise when he looks beside him and sees Violet Markey (one of the cool kids) standing frozen in fear. What was she doing there? Surely she wasn't thinking of doing the same thing?
Theo talks her back over the safety rail and it soon spreads through school that Violet saved Finch (the weird, psycho, wacko boy) from jumping off the tower. They have US Geography together so when their teacher sets the class a project to check out all the 'sights' of Indiana, they have to do it in pairs. Finch asks Violet right out in front of the class and she goes with it, scared he will tell the truth about who saved who.
Through both viewpoints we see them slowly build a friendship, learning about each other while finding sites for their school project. An intense relationship develops with Violet becoming stronger and Finch becoming lost without her. When something threatens to separate them forever, terrible decisions could be made.
This might sound like a gooey love story. It is and it isn't. Fantastic characterisation and story telling makes this a MUST READ.
(Suicide, Love School, Friendship, Conflict, Grief, Individuality)