(Not in the Napier/Taradale Libraries)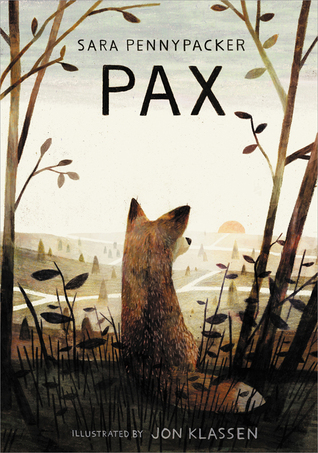 Author – Sara Pennypacker
Illustrations – Jon Klassen (B/W)
Age – 10+
The story of a boy and his abandoned pet trying to find each other – I knew this would be beautiful before I began reading, but the story is also so much more than that.
Peter is full of emotions. Guilt and loss after abandoning his pet fox. Grief for a lost parent, and anger at another parent for not only making him leave his fox alone in the wilderness, but all the while knowing that particular area would soon be a warzone.
Peter's journey is not an easy one but along the way he helps another person deal with her past (and her own warzone).
I couldn't read the last few pages quick enough – everything culminating into the reunion I'd waited for but also a life or death conclusion.
Pax was told in the point of view (third person) of both the fox and his boy in a heartfelt, compassionate, way throughout their separate journeys.
Research was made to ensure the ways of red foxes were authentic as much as possible, with creative license for anything in between. A great story about the bond between humans and their pets and also the aftermath of wars on everything it touches – whether it be human or animal.
(War, Fox, Animal, Family, Love, Grief, Trust, Anger, Sacrifice, Abandon)