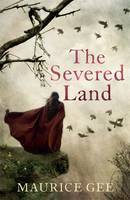 Author – Maurice Gee
Age – 9+
Fliss lives in a severed land – split by an invisible wall made by an ancient people to save their lands from a group of tyranical families wanting land, slaves and power.
But the wall is under threat. Soldiers are attacking it with cannon fire daily and the only thing keeping the wall intact is a very old bedridden man Fliss calls The Old One. He is the last of The People who built the wall with their minds, and he needs Fliss' help.
She is sent on a quest with a boy from the other side of the wall to free the only person who can help save their lands and way of life. But will the boy agree?
A new novel from one of NZ's most celebrated authors, The Severed Land is a fantasy quest that requires courage and determination. Fliss is a brave character, drawing on her skills learnt as a young child living on the streets. She has to face soldiers, sailors, murder, and a blood thirsty crowd to achieve their goal and complete their journey home.
(NZ Author, Fantasy, Courage, Determination, Power, Wall)