Author – Jen Storer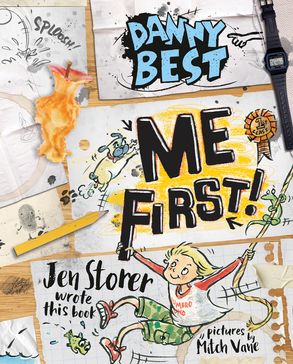 Illustrator – Mitch Vane
Age – 6+
4 more stories about a young boy called Danny Best. Danny is full-on and always first to do anything. He is always after a challenge and keen to beat everyone and then crow to the world!
1) Tongue Tied – Danny is determined to beat the World Record at talking with his tongue hanging out. And if it annoys his big sister, it's a bonus!
2) Old Yellow Eye is a revered fish in Danny's town, so when the annual fishing content rolls around, Danny is keen to catch this cunning creature. But when the time comes, he has to choose between Old Yellow Eye and someone close to him.
3) Bum-Free – Danny's teacher gives his class a task. Write a story about a wholesome family – keeping to the class rules of course. No exploding bums, monkeys with guns, squashed kittens etc. So Danny begins with a very angry vacuum cleaner…..
4) Boy Vs Wild – Danny is bored. So he ventures out into the baking Aussie outback (his backyard), to brave any creatures (the chickens) that come along, and try and find water. His friends are watching through the fence as he acts out his adventure, and he soon has more water than he knows what to do with!
Anyone funny set of stories about this crazy kid. There are quizzes along the way to make sure you're paying attention!
(Funny, Humour, Full-on, Friends, School, Fishing, Sibling, Series)