Author – Ray Bradbury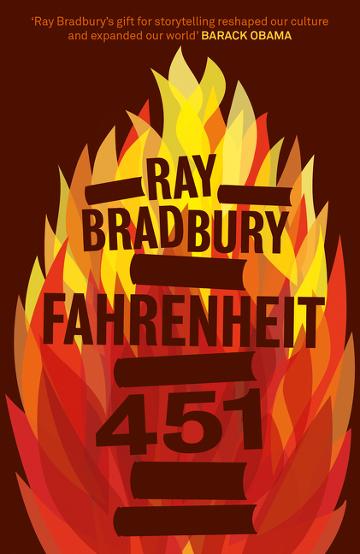 Age – 16+
It's not until firefighter Guy Montag meets his new 17 yr old neighbour, Clarisse McLellan, that he begins to think about his life. She seems strange, taking pleasure out of simple things and asking personal questions. The toughest of these being, 'Are you happy?'
This gets Guy thinking, and he realises he hasn't just sat and thought for a long time. When he discovers his wife has tried to commit suicide, and doesn't even remember doing it – just waking up and asking for another full wall TV screen (they are already trying to pay off the third they purchased only 2 months ago), Guy really starts to look at his life.
He is a firefighter – no, make that a firestarter. He works shifts at a firestation, responding to alarms that tell them someone, somewhere, has books that need to be disposed of – burnt, by him and his crew. They spray kerosine, not water, from their pipes, then throw a match.
It's not until he witnesses a woman preferring to die amongst her books that he realises what he has become. Almost a robot. Just going through the motions of life, not thinking or asking questions. Will books help him make sense of his life. Will they wake him up?
He can't talk to his wife. She's only interested in the TV programs and radio broadcasts she is addicted to. Who will help him in his quest?
His firestation Captain seems to understand his confusion – at first. But soon Guy's life tips upside down, and he can't return to how life was before, even if he wanted to…..
This classic was written in 1953 and has been classed as Dystopian, Futuristic, and a story about Censorship. But the author said simply, it was about too much TV turning people into morons. This story fascinated me in the fact that the author seems to have looked into the future (our now), and seen our TV and screen addictions, and often 'sameness' culture.
Brilliant!
(Dystopian, Censorship, Friendship, Books, Book-burning, Future, Classic)