Author – Amy McCulloch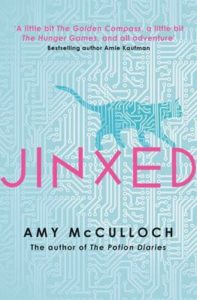 Age – 11+
Imagine your cellphone is now outdated tech. Its replacement is a companion called a baku – invented to stop us spending all our hours looking at a screen and totally in sync with your likes and dislikes, friend and business connections and so much more. It is also much nicer to have around as it it is in the form of an animal.
The more money you have, the more high-tech your baku. A level 1 baku may be an insect, still beautiful in construction but simple compared to a level 3 eagle or wolf.
Lacey Chu lives in this future world, with a dream of going to the prestigious Profectus Academy. From there she wants to be a companioneer – an engineer who designs new bakus.
Despite her years of hard work and excellent grades, she receives a rejection from the Academy. Wandering and despondent, she is out walking when she finds a wrecked baku in some scrub. She's determined to repair it, (calling it Jinx), and as she does her future turns around.
Profectus suddenly say she's in, and she begins her dream towards being a companioneer like her father before her. Soon however, she realises other things aren't adding up. Jinx doesn't behave like other bakus and someone powerful seems to be looking for him.
Lacey is a likeable character, driven to making life better for her mum. When her life-time goal is suddenly overshadowed, she is true to her new feelings, sending her and her new friends into a tail-spin of intrigue and action. With just a touch of romance and a ending in the middle of the climax, this series will definitely be one to follow.
(Future, Technology, Friendship, Scholarship, University, Study, Determination, School)