Author – Maggie Stiefvater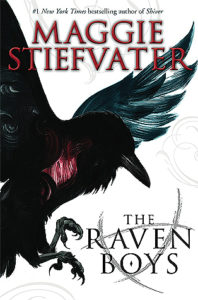 Age – 12+
Blue lives in a house full of psychics, her mother being one of them. Blue doesn't share her mother's gifts but she has learnt early that she enhances other's gifts, just by being in the room.
When she receives a warning that she will kill her true love with a kiss, she is intrigued but saddened at the same time. How can this be, and how is it fair? She's never had a boyfriend, preferring to keep to herself and her family – especially avoiding the rich, loud, confident boys who attend the local private school. They are known as Raven Boys.
Despite the warning and her dislike of the rich kids, she is soon caught up with a group of them after getting to know a boy called Adam – a local trailer-park resident who works three jobs just to attend the school.
Adam's friends – Roman (seeming angry and devastated at the same time), Noah (quiet and trusting) and his best friend Gansey (rich, handsome, driven), soon become her friends. Gansey is the leader, and he leads them on a quest to find a buried Welsh King's bones, thought to be buried on an invisible, spiritual ley line. But someone else is looking too. Someone else is determined to receive the power the King will release when found.
(Told in third person but multiple viewpoints, the reader gets to know the characters well. The search for the elusive ley-line brings these unlikely characters together while weaving being the supernatural and realism. 1st in a series) 
(Magic, Spiritual, Secrets, Ley line, Quest, Determination, Abuse, Bully, Family, Friendship)