Mortal Engines – The Hungry Cities (1)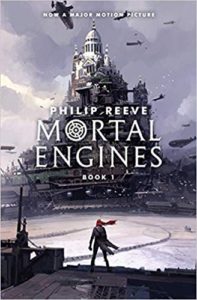 Tom, Hester, Katherine and her father Valentine's world is forever moving. Whether living in a small town or a giant city like London, they are all now built on wheels or gigantic bulldozer like tracks, sweeping the barren earth beneath them for other towns they can attack, destroy and  pull apart for their own use. They are always on the search for old technology they can rebuild and use.
Tom is an historian's apprentice with a fierce love of his city of London, and his hero is London's most famous adventurer, archaeologist, and historian – Thaddeus Valentine. One day when Valentine is suddenly attacked by an angry, disfigured stranger, Tom is the first to give chase as she flees. Soon drawn into why this girl attacked his hero, Tom's way of life is quickly shattered. The girl's name is Hester and she knows things about Valentine that shock Tom to his core.
Like Tom, Katherine adores her father. He is the most kind, clever, loving father any girl could hope to have, and her life too is about to change. Valentine has been sent on another mission by London's Mayor, but it isn't what Katherine thinks it is. Little does she know that it is connected to a piece of tech her father stole many years before. The type of tech that made the Earth the wasteland it is now….
A steampunk/sci fi adventure with half men-half robots, complicated moving structures scouring the land for prey (other towns), armoured airships and villains galore. New Zealand's Peter Jackson has directed the movie due out December 2018. Looking forward to devouring the rest of the series.
Author – Philip Reeve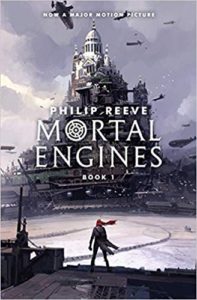 Age – 11+
(Steampunk, Sci-fi, Future, Dystopian, Secrets, Family, Revenge, Friendship, Action, Quest, Determination)