Six of Crows
Six teens are pulled together by their leader Kaz Brekker to perform the most dangerous,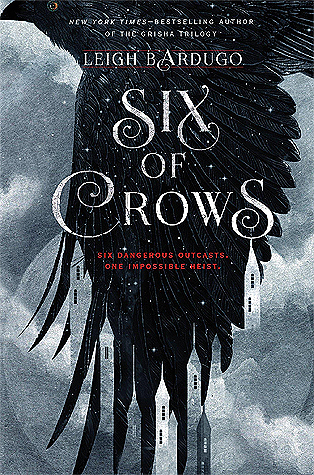 outrageous, death-defying theft. Are they stealing money? Gold or Jewels? No. It's something much more important. Something that will plummet the world into war, and tear trade, people and lives to shreds. And they will be paid more than they've ever dreamed of.
Kaz – 17 years old, with the mind of someone much older. Kaz Brekker is also known as a demon. He has no sympathy for weakness, no empathy for others, and a brilliant calculating brain that has built him a ruthless gang and cut throat business of underhand deals, thefts and knowledge about all those around him. When offered a deal too good to refuse, he needs only the best to accompany him on his quest.
Jesper – Has worked for Kaz for some time, and after a betrayal in their ranks, becomes as close to a right-hand-man Kaz will allow. Jesper is skilled with guns and loves the thrill of his life on the line, but has an expensive gambling streak he cannot deny. This quest may be the answer to all his problems.
Inej – Also known as The Wraith, Inej has the power of appearing out of nowhere, climbing anything, and all the while having a calming influence – especially on Kaz. Friction builds between these two throughout the story, until they realise the truth. Will this heist finally give her the direction and purpose she has been searching for?
Matthias – Tall, strong, blond and incredibly angry after being set-up and flung in a hell-hole prison to rot. Little does he know the person who put him there is doing everything to get him out. The quest he is offered turns him inside out. Does he protect his country and all he has trained for, or let his true feelings decide?
Wylan – Son of a rich merchant, who has fled his privileged life to forge his own way. He is determined to prove himself useful in this gang, and not just be collateral if things go wrong.
Nina – Nina is a Grisha – a race hunted down over decades in order to eradicate them and their special powers. There are Tidemakers who can draw blood from their enemies, Fabrikators who design and build, Healers, and Heartrenders like Nina who can stop an enemy's heart with one flick of a wrist.
A fantasy world set in a time of thieves, con men, pickpockets, blades and guns (with an early Victorian flavour), Six of Crows is told from the viewpoint of these six young men and women. Their back stories are woven into the narrative, explaining their actions, desires, dreams and separate agendas. Absolutely brilliant!! Can't wait to read the sequel Crooked Kingdom.
Author – Leigh Bardugo
Age – 13+ (Violence)
(Fantasy, Betrayal, Loyalty, Courage, Quest, Heist, Magic, Fighting, Theft, Historical, Hate, Love)